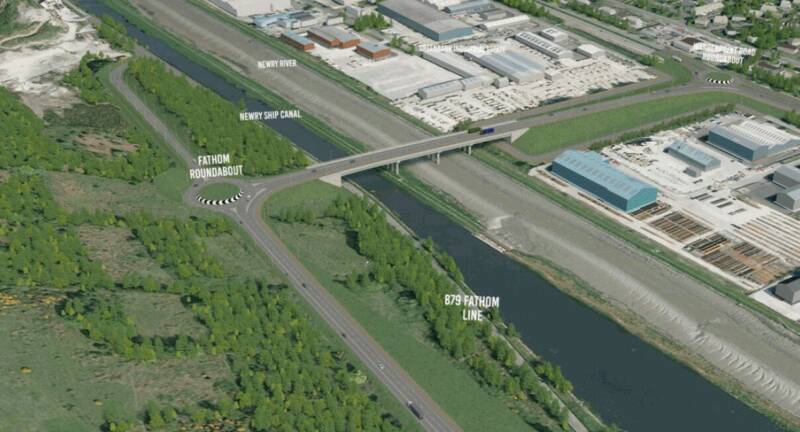 The Department for Infrastructure has confirmed that a non-opening 50 metre fixed bridge has been adopted as its preferred option for Newry Ship Canal, which will form part of the Newry Southern Relief Road (NSRR).

The Department will now proceed with the preparation of the Environmental Impact Assessment Report and associated consultation based on a fixed bridge. The proposed new bridge will provide clearance for vessels under 12 metres in height and provide those vessels with access to the Albert Basin area of Newry.
In the absence of a Minister, the Permanent Secretary for the Department has made the decision under the Northern Ireland (Executive Formation etc) Act 2022. The decision has been taken after detailed consideration of a range of factors, including engineering, economic, heritage impact and environmental assessments.
Careful consideration has also been given to whether it is in the public interest to take a decision at this stage. The decision has been taken on the basis of poor value for money associated with an opening bridge option, the fact that scheme will be subject to further public consultation as well as the negative financial and economic impacts associated with project delays.
The NSRR is being developed to provide a strategic link between the A1/N1 Belfast to Dublin corridor and the A2 Warrenpoint Road, bypassing Newry City Centre. It is one of the three infrastructure projects being taken forward by the Department within the Belfast Region City Deal, which has allocated £93.4m to the project.
Notes to editors:
Images and an illustrative flythrough of the NSRR project are available at: Newry Southern Relief Road - overview | Department for Infrastructure (infrastructure-ni.gov.uk)
Through extensive consultation, including drop-in sessions for the public and meeting interest groups, seven bridge options were considered as part of the initial consultation process.
Newry Ship Canal is scheduled under Article 3 of the Historic Monuments and Archaeological Object (NI) Order 1995. Departmental officials have worked with Department for Communities Historic Environment Division to prepare a Heritage Impact Assessment which assessed the options in terms of: physical change; setting change; and functionality in the context of historic use.
All media queries should be directed to the Department for Infrastructure Press Office at: press.office@infrastructure-ni.gov.uk.
Follow the Department on Twitter @deptinfra(external link opens in a new window / tab) and on Facebook @DepartmentforInfrastructure(external link opens in a new window / tab)
The Executive Information Service operates an out of hours service for media enquiries only between 1800hrs and 0800hrs Monday to Friday and at weekends and public holidays. The duty press officer can be contacted on 028 9037 8110.